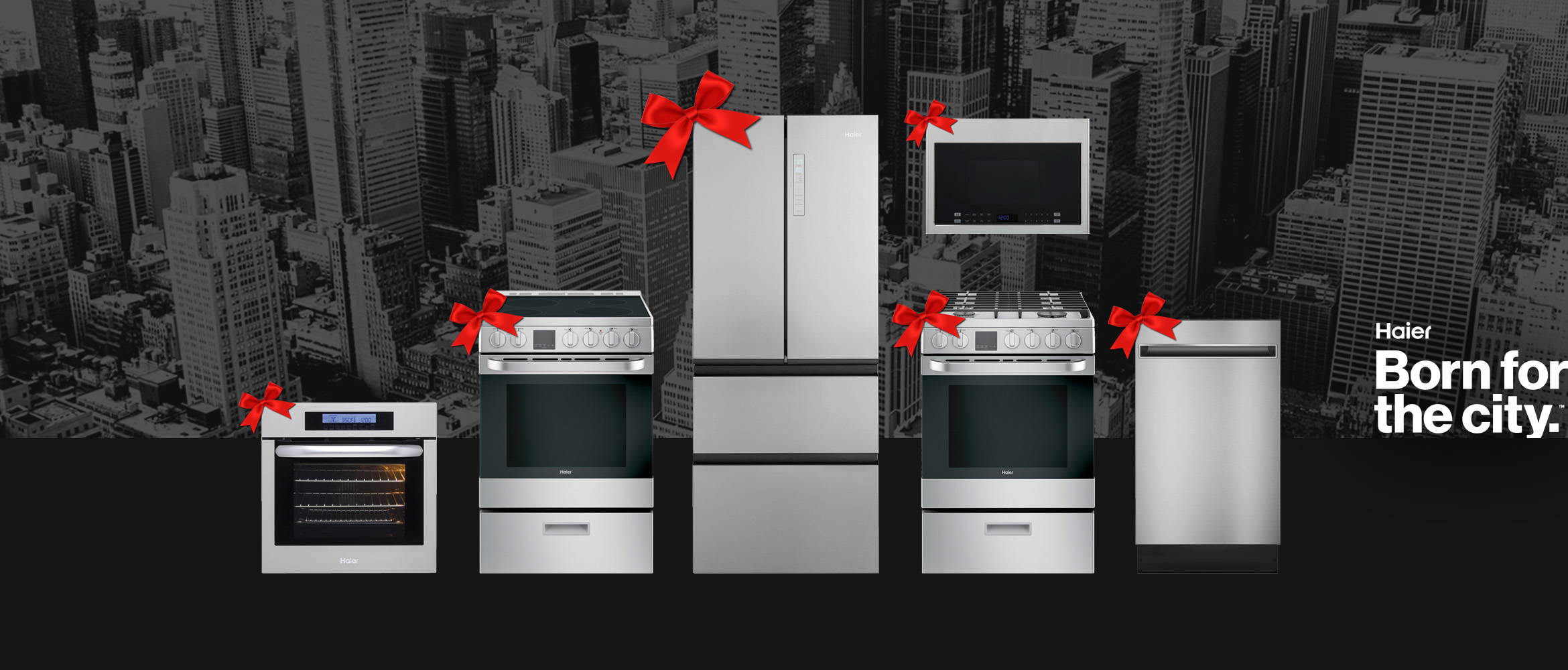 Haier Appliances Black Friday & Cyber Monday Sale
Upgrade your appliances for less and plan ahead for the next Haier Black Friday Sale.
Have your eye on a smart new kitchen appliance? Or maybe you've been waiting to replace that old room air conditioner? When the next Haier Appliances Black Friday Sale comes around, you'll find deals on hundreds of high-tech appliances for your kitchen and home. You won't want to miss out on Black Friday 2023 appliances offers across different product categories, from oven deals to dishwasher deals and great sales on small-space appliances.
Save with upcoming Black Friday kitchen appliance deals.
Revamp your cooking area with a shiny new appliance to instantly transform your old kitchen into a more modern space. When our Black Friday 2023 dishwasher offers go live, you'll save money and save time on doing dishes. You can also streamline your cooking process with our next Black Friday microwave sale.
Look for our Black Friday oven deals and stove deals to get your kitchen ready for the 2023 holiday season. You won't want to miss out on the Black Friday savings - while supplies last!
You won't want to miss the next Haier Cyber Monday sale.
If you miss out on our 2023 Black Friday offers, you'll get one last chance to save in our Haier Appliances Cyber Monday sale! Cyber Monday is an online-only promotion that takes place on the Monday after Black Friday. Treat yourself to a brand-new appliance and avoid the heavy lifting by getting it delivered! We specialize in small-space appliances like our 24" ranges, 24" wall ovens, 24" over-the-range microwave ovens, and 18" dishwashers. Plus, you'll find refrigerators in various sizes to fit your urban apartment, small home, RV, or bar area.
Look Forward To Online-Only Deals On Kitchen And Home Appliances.
You won't want to miss out on exclusive Cyber Monday appliances deals for your kitchen and home. Make chores easier by adding a discounted dishwasher to your kitchen, rec room, or bar area. With our Cyber Monday 2023 offers on refrigerators and microwaves, you'll find many kitchen essentials for less. Get ready to level up your laundry appliances without breaking the bank with our Cyber Monday deals on wine centers, beverage centers, smart appliances, and more.